American Company Spotlight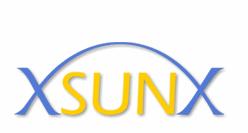 XsunX, Inc. Website: Click Here

Information As Of September 30, 2008

Exchange:

OTCBB

Market Cap:

45.5

Million
Outstanding Shares:

175

Million
52 Low / High: $0.

2

4 / $

0

.

74

Price September 30, 2008: $0.26

XSNX

Recent Stock Quote and News: Click Here
'Investments in renewable energy capacity grew to $71 billion in 2007, up from $55 billion in 2006 and $40 billion in 2005. Almost all of the increase was due to increased investment in solar PV and wind power.'
---
Overview
Based in Aliso Viejo, California, XsunX, Inc. is a thin-film photovoltaic company. XsunX is executing a phased plan to build and install 100 mega-watts (MW) of amorphous silicon thin film solar module manufacturing capacity. The Company is working to complete the installation of its base production infrastructure in Portland Oregon, USA in 2008, and then grow capacities to 25 MW by early 2009, and 100 MW by early 2010.
---
Investment Highlights
---
Profile
The percentage of the sun's rays that reach the earth's surface could satisfy global energy consumption 10,000 times over. On average, each square meter of land exposed to sunlight receives 1,700 kWh of energy every year. However, solar energy currently accounts for only 0.38 percent of the world's energy usage. While the earth has relied mostly on fossil fuels over the last century to power almost everything human's use, problems with global warming, pollution, environmental destruction and other concerns are fueling (no pun intended) interest in renewable energy such as solar and wind power.
XsunX Inc. was created in 2003 to develop and commercialize advanced, thin film photovoltaic (TFPV) solar cell technologies and manufacturing processes. During 2007, the Company shifted its business focus from technology licensing to producing and marketing thin film, amorphous solar modules.

The Company is developing a 25 megawatt (MW) solar module production facility in the United States and is scheduled to commence commercial solar module production in early 2009. XSNX anticipates expanding its annualized solar module manufacturing capacity to 100 MW in 2010.

The Company has already contracted with vendors to begin assembling the equipment and sub-systems for its TFPV solar module production line. XSNX will initially produce solar cells and modules incorporating thin film, amorphous silicon on glass substrates.
XSNX has secured a $21 million financing commitment from Fusion Capital Fund II, LLC and is already contracting with vendors to begin building the parts and sub-systems for a solar module production system. XSNX will initially produce solar cells and modules incorporating thin-film amorphous silicon on glass substrates. In the future, the Company may expand its product offerings to include nano-crystalline and proprietary multi-junction solar designs which will improve performance and further reduce per watt production costs. Research is ongoing at the Company's recently established research and development facility in Golden, Colorado.

XSNX plans to market its solar cells and modules to large-scale solar energy device installers and operators, including solar farms, government agencies, power purchase associations, utility companies and large commercial installations. In anticipation of commercial production, the Company has begun loading its sales channels and building its brand. To date, XSNX has pre-sold more than 100 MW of signed reserved capacity.
---
Industry Outlook

Increasing Energy Demand

The world's energy demand will increase greatly during the next 20 years. Electricity demand is forecast to increase much more rapidly than overall energy use and is likely to nearly double between 2004 and 2030.
The US Congress is contemplating extending the Solar Tax Credit which provides a tax incentive for companies investing in PV systems. Legislation to extend the solar tax credit for 10 years is advancing through both houses of the US Congress, and a new bill called the Solar Opportunity and Local Access Rights Act has been introduced. Also, President Bush has proposed a large funding increase for solar energy research. His program targets the US deployment of 5-10 GW of solar power capacity by 2015 which could rise to 70-100 GW by 2030.

Solar Energy Market

The percentage of the sun's rays that reach the earth's surface could satisfy global energy consumption 10,000 times over. On average, each square meter of land exposed to sunlight receives 1,700 kWh of energy every year. Because of the abundance of this energy source, solar energy offers an attractive long-term solution to the world's energy needs. However, solar energy currently accounts for only 0.38 percent of the world's energy usage.

Solar energy demand has been growing consistently at 35 percent to 40 percent annual rates in recent years. During the 1990s, there were mainly stand-alone systems in remote areas. By the end of the decade, however, decentralized grid-connected PV system had become dominant.

Some 3,800 MW of solar photovoltaics were installed in 2007, representing 62 percent growth over the previous year. Cumulative worldwide installed capacity of solar PV systems has increased from 1,450 MW in 2000 to 12,400 MW in 2007.

Investments in renewable energy capacity grew to $71 billion in 2007, up from $55 billion in 2006 and $40 billion in 2005. Almost all of the increase was due to increased investment in solar PV and wind power.

The solar energy technology market is valued at around $13 billion currently and continues to expand at high double-digit rates. According to BCC Research, the PV market is expected to grow at a nearly 15 percent compound annual rate to exceed $32.3 billion by 2012. Solar device manufacturers in Germany, the United States, China and Japan remain the top PV-producing countries with significant amounts of capital invested in new production facilities and new technologies.
Depleting Fossil Fuels
The rapid depletion of conventional energy sources such as crude oil, natural gas and coal will result in a shortage of these fuels for electricity generation. The International Energy Agency (IEA) warns that rising global demand could create a supply crunch as early as 2015. According to the US Department of Energy (DOE), current global oil production is around 85 million barrels a day, whereas consumption hovers around 86 million barrels a day. The DOE predicts output will grow to 118 million barrels by 2030, but even this level of production may not be enough to meet rising demand.

Due to the supply/demand imbalance and escalating political tensions in some oil-producing regions, energy prices have risen significantly this year, with crude oil prices hovering around $100 per barrel in September 2008.
All these factors are supporting double-digit growth in demand for alternative energy sources such as solar, wind and nuclear power.
---
Thin-Film Photovoltaics Focus

Crystalline silicon was the original materials technology used by the PV industry; the PV market continues to be dominated by silicon-based panels which account for an estimated 89 percent of total production. Although substantial technology advances have been made, the cost of crystalline PV modules remains high because of high material costs, shortages of polysilicon and difficult technological process needed to manufacture the modules. The remaining 11 percent of the PV market is comprised of thin film-based technologies dominated by amorphous silicon (a-Si).

Thin film solar module manufacturers have recently announced major capacity expansions. In 2008, worldwide solar power generation is expected to grow 50 percent to 5.6 GW, with thin films' share growing to 14.4 percent of all solar panels(6). Thin-film deployments are forecast to grow 45 percent annually through 2013 as a result of improved manufacturing efficiencies and the increased use of these materials on flexible substrates. Thin film solar production will grow to more than 9 GW in 2012, accounting for nearly 19 percent of the PV market, according to the Prometheus Institute for Sustainable Development(7).

A-Si PV modules provide a low cost alternative to crystalline PV technology for small-sized modules (< 20 Watts). This technology provides the platform for solar energy deployments in areas such as Kenya, where more than half the country's 200,000 off-grid PV power is based on a-Si technology. Sales of single junction a-Si modules are also common in North American specialty markets such as solar panels for recreational vehicles (RVs)(8). According to the Information Network, a-Si PV deployments will grow 40 percent annually between 2006 and 2010. By 2012, amorphous silicon is expected to comprise the largest segment of the thin-film market and 4.5 GW of production
---
Technology

The Company's thin film technology provides significant cost savings compared to other manufacturers. Rather than accepting a standard TFPV module design from franchise-type manufacturing system vendors, XSNX opted to design its ASI-125 TFPV module to meet the needs of its target markets, i.e. large utilities and solar farms. XSNX then designed its manufacturing system around this module, utilizing a best-of-breed approach and purchasing the necessary components and sub-systems from premier industry vendors.

XsunX indicates that costs for its initial 25 MW system will run approximately $1.56 per factory-rated watt of production capacity. That represents potential savings of as much as 52 percent in initial start-up costs compared to turn-key amorphous thin film manufacturing systems available from other semiconductor system manufacturers. Their costs are estimated at approximately $2.50 to $3.00 per watt.

XSNX's lower per-watt factory startup costs may also provide the Company's shareholders with lower capital recovery costs for each watt of per-watt operating costs, and the ability to leverage expertise acquired building its system for future manufacturing lines, eliminating the need to pay future premiums to franchise system vendors.

The Company's PECVD system, when running at full capacity, will process eight 1m X 1.6m glass panels simultaneously. This provides 12.8 square meters of panel fabrication at one time with a processing cycle of every 12 minutes. Each TFPV module requires approximately three hours from start to finish for the entire manufacturing and assembly process. Initially, the Company estimates module production will run at approximately 190,000 modules per year, growing to over 240,000 modules annually as XSNX fine tunes its factory after startup.

Competing in the solar industry requires low per-watt module manufacturing costs. Compared to traditional silicon wafer technologies costing over $1.00 per watt for the solar cell, XSNX costs will run only about $0.25 per watt in 2009, its first year of production. Assembly and other material costs bring the total per-watt module cost to about $1.58 per watt, including capital recovery and G&A costs. Silicon wafer-based module manufacturers have much higher costs, starting at over $2.50 per watt with most manufacturers' costs exceeding $3.00 per watt.

The Company's per-watt cost estimates assume only 58 percent system utilization. With a methodic increase of system utilization as the system is fine tuned, XSNX anticipates operating at 80 percent capacity utilization and increasing annual per-line production to over 30 MW. Once this level of utilization is achieved, we anticipate that XSNX will be able to maintain its significant cost advantages over other manufacturers.
---
Recent News and Press Releases
RedChip Visibility Issues Third Quarter 2008 Research Update On XsunX
GlobeNewswire (Mon, Sep 29)

Electricity Needs From Renewable Sources Is Growing
PR Newswire (Wed, Sep 24)

Solar Stocks Sector Close Up - Solar Integrators Deliver Growth
Marketwire(Thu, Sep 18)
XsunX Launches Turning Renewable Energy Into Renewable Revenues Initiative and Garners First 100kW Project
PR Newswire (Tue, Sep 2)

XSUNX INC Financials
EDGAR Online Financials (Tue, Aug 26)

XSUNX INC Files SEC form 10-Q, Quarterly Report
EDGAR Online (Mon, Aug 11)

XSUNX INC Files SEC form 8-K, Change in Directors or Principal Officers
EDGAR Online (Wed, Aug 6)

XsunX Exhibiting at the European Photovoltaic Conference in Valencia Spain
PR Newswire (Mon, Aug 4)

XsunX Expands Efforts to Secure Oregon Financial Incentives and Supply Statewide Burgeoning Renewable Energy Initiatives
PR Newswire(Wed, Jul 16)
---
Management
Tom M. Djokovich, President and Chief Executive Officer

An experienced professional, Mr. Djokovich leads XsunX's efforts to produce TFPV modules to help meet the burgeoning demand for alternative sources of energy.

Mr. Djokovich has over 30 years of executive management and entrepreneurial experience managing growth and innovation in both the high-tech and building industries. He is a veteran manager of publicly held corporations and has successfully attracted millions of dollars in capital investments for business development. In addition to his general management duties, Mr. Djokovich has been directly responsible for managing investor relations and compliance with Security Exchange Commission regulations.

Joseph Grimes, Chief Operating Officer

Mr. Grimes brings to XsunX more than eight years direct experience in thin-film technology and manufacturing. He was most recently Vice President, Defense Solutions, for Envisage Technology Company, where he directed and managed the defense group business development process, acquisition strategies and vision for next generation applications. Previously he was Co-Founder, President and CEO of ISERA Group, where he established the company infrastructure and guided five development teams, finally selling the company to Envisage. His direct experience in thin-film technology came with Applied Magnetics Corporation as manager for thin-film prototype assembly.

Mr. Grimes holds a Bachelor's degree in business economics and environmental studies, and a Master's in computer modeling and operation research applications, both from the University of California at Santa Barbara.

Jeff Huitt, Chief Financial Officer

Jeff Huitt serves as Chief Financial Officer at XsunX. Located in the Golden, Colorado research facility, his responsibilities include operations management and coordination of resources. He has 20 years experience in leadership positions of both larger organizations and start ups, most recently as COO/CFO of a startup defense contractor guiding the company through high growth rates and recapitalizations. His additional experience includes venture capital, technology and non technology startups, and Controller of Qwest Wireless.

Mr. Huitt is a CPA and holds two degrees from the University of Denver: a Bachelor of Science in Accounting and a Master's in Business Administration.

Dr. Guang Lin, Chief Scientist

Dr. Guang H. Lin serves as Chief Scientist at XsunX. Dr. Guang received his PhD in Chemical Physics at the University of Colorado at Boulder in 1985. He has extensive experience in thin film deposition by means of various methods, including PECVD, CVD, PLD, DC & RF sputtering, MOD, and E-Beam deposition. He works in Wronski-free amorphous silicon alloy materials and solar cells, nano-structure optical resonance device fabrication, and hydrogen production using triple junction amorphous silicon solar cells.

Prior to XsunX, Dr. Lin was the Principal Engineer and Thin Film Department leader at Paratek Microwave Inc. Here he focused on developing Barium Strontium Titanate based thin film material and processes for microwave communication. He was a Senior Project Staff Scientist and Pilot Solar Module Line Manager at BP Solar where he developed new processes with higher yield, faster throughput and higher stabilized efficiency. Several of the pilot line processes were successfully transferred to the large scale production line.

Dr Lin's academic excellence includes work as a Research Scientist and Assistant Director at Surface Electrochemistry Laboratories and Assistant Research Scientist and Program Manager at the Center for Electrochemical System and Hydrogen Research at both facilities situated at the Texas A&M University. Dr. Lin has published more than 60 scientific papers and holds several patents.

Robert Wendt, Vice President of Engineering

Mr. Wendt holds a B.S. and M.S. in Metallurgical Engineering and Material Science from the Colorado School of Mines. His responsibility encompasses technical specification of the facilities, equipment, and manufacturing processes for XsunX. Prior to joining XsunX, Mr. Wendt was Vice President of Sales, Product Development, and Engineering at Global Solar Energy. At Global Solar, Mr. Wendt has led and directed several areas including copper indium gallium dislelenide (CIGS) technology development, equipment design and integration, facilities design and construction, engineering, production, and operations.

Previously, Mr. Wendt was at ITN with responsibility for the development of thin-film deposition technologies, thin-film PV, and development of charge controller/battery systems for portable solar cell powered systems. Prior to joining ITN, Mr. Wendt spent eight years with Lockheed Marietta Astronautics, Denver Division. While in this position, Mr. Wendt was program manager/principal investigator on over 20 material-based programs. During 1994/1995, Mr. Wendt was the technical lead for thin-film PV research at the Denver Division.

---
Contact
XsunX, Inc.
65 Enterprise
Aliso Viejo, CA 92656
Tel 949-330-8060
Fax 949-330-8061

Investor Relations: 888-797-4527
Media Relations: 949-330-8065

Investor Relations Email
---
FORWARD LOOKING STATEMENTS
This report includes forward-looking statements that reflect XsunX, Inc. current expectations about its future results, performance, prospects and opportunities. XsunX, Inc. has tried to identify these forward-looking statements by using words and phrases such as "may," "will," "expects," "anticipates," "believes," "intends," "estimates," "plan," "should," "typical," "preliminary," "we are confident" or similar expressions. These forward-looking statements are based on information currently available and are subject to a number of risks, uncertainties and other factors that could cause XsunX, Inc.'s actual results, performance, prospects or opportunities to differ materially from those expressed in, or implied by, these forward-looking statements. These risks, uncertainties and other factors include, without limitation, the Company's growth expectations and ongoing funding requirements, and specifically, the Company's growth prospects with scalable customers, and those outlined above. Other risks include the Company's limited operating history, the Company's history of operating losses, consumers' acceptance, the Company's use of licensed technologies, risk of increased competition, the potential need for additional financing, the terms and conditions of any financing that is consummated, the limited trading market for the Company's securities, the possible volatility of the Company's stock price, the concentration of ownership, and the potential fluctuation in the Company's operating results.
---
Disclaimer
AllPennyStocks.com feature stock reports are intended to be stock ideas, NOT recommendations. Please do your own research before investing. It is crucial that you at least look at current SEC filings and read the latest press releases. Information contained in this report was extracted from current documents filed with the SEC, the company web site and other publicly available sources deemed reliable. For more information see our disclaimer section, a link of which can be found on our web site. This document contains forward-looking statements, particularly as related to the business plans of the Company, within the meaning of Section 27A of the Securities Act of 1933 and Sections 21E of the Securities Exchange Act of 1934, and are subject to the safe harbor created by these sections. Actual results may differ materially from the Company's expectations and estimates. This is an advertisement for XsunX, Inc. The purpose of this advertisement, like any advertising, is to provide coverage and awareness for the company. The information provided in this advertisement is not intended for distribution to, or use by, any person or entity in any jurisdiction or country where such distribution or use would be contrary to law or regulation or which would subject us to any registration requirement within such jurisdiction or country.
© 1999-2008 AllPennyStocks.com. All rights reserved. AllPennyStocks.com is not a Registered Broker/Dealer or Financial Advisor, nor do we hold ourselves out to be. All materials presented on our web site and individual reports released to the public through this web site, e-mail or any other means of transmission are not to be regarded as investment advice and are only for informative purposes. Before making a purchase or sale of any securities featured on our web site or mentioned in our reports, we strongly encourage and recommend consultation with a registered securities representative. This is not to be construed as a solicitation or recommendation to buy or sell securities. As with any stock, companies we select to profile involve a degree of investment risk and volatility. Particularly Small-Caps and OTC-BB stocks. All investors are cautioned that they may lose all or a portion of their investment if they decide to make a purchase in any of our profiled companies. Past performance of our profiled stocks is not indicative of future results. The accuracy or completeness of the information on our web site or within our reports is only as reliable as the sources they were obtained from. The profile and opinions expressed herein are expressed as of the date the profile is posted on site and are subject to change without notice. No investor should assume that reliance on the views, opinions or recommendations contained herein will produce profitable results. AllPennyStocks.com may hold positions in securities mentioned herein, and may make purchases or sales in such securities featured on our web site or within our reports. In order to be in full compliance with the Securities Act of 1933, Section 17(b), AllPennyStocks.com will disclose in it's disclaimer, what, if any compensation was received for our efforts in researching, presenting and disseminating this information to our subscriber database and featuring the report on the AllPennyStocks.com web site. AllPennyStocks.com has been compensated three thousand five hundred dollars by a non-affiliated third-party, Blue Wave Advisors, LLC. for its efforts in presenting the XSNX profile on its web site and distributing it to its database of subscribers as well as other services. AllPennyStocks.com may decide to purchase or sell shares on a voluntary basis in the open market before, during or after the profiling period of this report. As of the profile date, no shares have been sold. Information presented on our web site and within our reports contain "forward looking statements" within the meaning of Section 27A of the Securities Act of 1933 and Section 21E of the Securities Exchange Act of 1934. Any statements that express or involve discussions with respect to predictions, expectations, beliefs, plans, projections, objectives, goals, assumptions or future events or performance are not statements of historical fact and may be "forward looking statements." Forward looking statements are based on expectations, estimates and projections at the time the statements are made that involve a number of risks and uncertainties which could cause actual results or events to differ materially from those presently anticipated. Forward looking statements in this action may be identified through the use of words such as "expects'", "will," "anticipates," "estimates, "believes," or that by statements indicating certain actions "may," "could," or "might" occur.
THE READER SHOULD VERIFY ALL CLAIMS AND DO THEIR OWN DUE DILIGENCE BEFORE INVESTING IN ANY SECURITIES MENTIONED. INVESTING IN SMALL CAP SECURITIES IS SPECULATIVE AND CARRIES A HIGH DEGREE OF RISK.
We encourage our readers to invest carefully and read the investor information available at the web sites of the Securities and Exchange Commission (SEC) at: http://www.sec.gov and/or the National Association of Securities Dealers (NASD) at: http://www.nasd.com. Readers can review all public filings by companies at the SEC's EDGAR page. The NASD has published information on how to invest carefully at its web site.