S&P Inches Up on Fed Remarks
July 18,2019 04:25 pm EST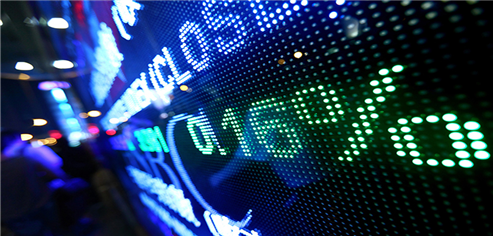 Stocks rose on Thursday after comments from a top Federal Reserve led to increasing bets that the central bank will ease monetary policy more aggressively.
The Dow Jones Industrial Average eked up 3.12 points to 27,222.97
The S&P 500 recovered 10.69 points to 2,995.11, led by a 0.8% gain in consumer staples.
The NASDAQ Composite regained 22.04 points to 8,207.24
The gains were the first for the indexes in three sessions.
The indexes turned around in the afternoon came after New York Federal Reserve President John Williams said the central bank needed to "act quickly" when the economy was slowing and rates were low.
"It''s better to take preventative measures than to wait for disaster to unfold," he said in a speech.
After Williams'' comments, traders increased their bets that the Fed could go deeper than a quarter-point cut at its meeting in late July.
Netflix shares plunged 10% after the streaming giant reported a surprise loss in U.S. subscribers coupled with slower-than-expected international membership growth. Those metrics — which are key for Netflix — offset better-than-expected earnings per share for the previous quarter.
IBM shares, meanwhile, briefly fell at the open before recovering after the company reported its fourth consecutive revenue decline. Declining sales from IBM''s IT division offset growth in its cloud business.
Morgan Stanley posted better-than-expected quarterly results, driven by its wealth management and fund divisions. The stock rose 0.5%.
So far, more than 12% of S&P 500 companies have reported quarterly results this earnings season. Of those companies, nearly 84% have reported better-than-expected earnings
Prices for the benchmark 10-year U.S. Treasury regained lost ground, lowering yields to 2.03% from Wednesday''s 2.05%. Treasury prices and yields move in opposite directions.
Oil prices lost $1.16 at $55.62 U.S. a barrel.
Gold prices climbed $24.00 to $1,447.30 U.S. an ounce.
Currencies