Dow Dumps More than 300 as Volatility Continues
April 03,2020 4:28 PM EST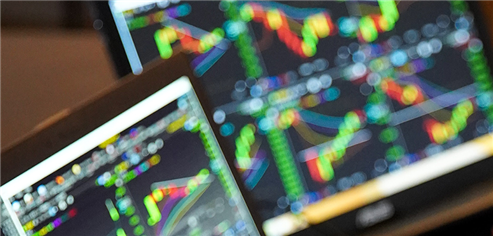 Stocks fell on Friday to end another volatile week of trading, pressured by a spike in coronavirus-related deaths in New York while investors digested a dismal U.S. jobs report.
The Dow Jones Industrials came off its lows of the afternoon, but still sank 360.91 points, or 1.7%, to end Friday at 21,052.53.
The broader S&P 500 wilted 38.25 points, or 1.5%, to 2,488.65.
The NASDAQ Composite dropped 114.23 points, or 1.5%, to 7,373.08
The Dow was down 2.7% for the week, while the S&P 500 lost 2.08%. The NASDAQ was down 1.72%.
American Express, UnitedHealth and IBM fell more than 3% each to lead the Dow lower. Some of those losses were offset by Walmart, which turned around to close 0.7% higher after a report said the company''s sales have jumped 20% in the past month. Utilities declined 3.6%, and financials docked 2.3%, to lead the S&P 500 lower.
Wall Street still posted its third weekly decline in four. The Dow lost 2.7% this week while the S&P 500 fell 2.1%. The NASDAQ ended the week down 1.7%.
Both the Dow and S&P 500 remain more than 25% below their respective all-time highs set in February as jitters over the spread of COVID-19 foster volatile trading on Wall Street.
New York Gov. Andrew Cuomo said deaths in the state rose by 562 in 24 hours to more than 2,900 for the biggest increase to date. Cuomo added the curve of confirmed cases "continues to go up," noting there are now over 100,000 cases in the state.
There have been more than 261,000 confirmed infections in the United States and more than 6,600 deaths from COVID-19, according to data from Johns Hopkins University. Globally, more than one million cases have been confirmed.
U.S. payrolls fell by 701,000 in March, marking the worst jobs report since 2009, while the unemployment rate jumped to 4.4%. However, the report failed to capture the full extent of the economic blow being dealt by the coronavirus outbreak.
On Thursday, the U.S. Labor Department said jobless claims jumped by a record of 6.6 million for the week of March 27.
Prices for the 10-Year U.S. Treasury sagged, lifting yields back to Thursday''s 0.62%. Treasury prices and yields move in opposite directions.
Oil prices gained $3.44 to $28.76 U.S. a barrel.
Gold prices regained $10.30 to $1,648.00 U.S. an ounce.
Currencies